KAZE_TO_MORI × 源商店  コラボレーションモデル完成のお知らせ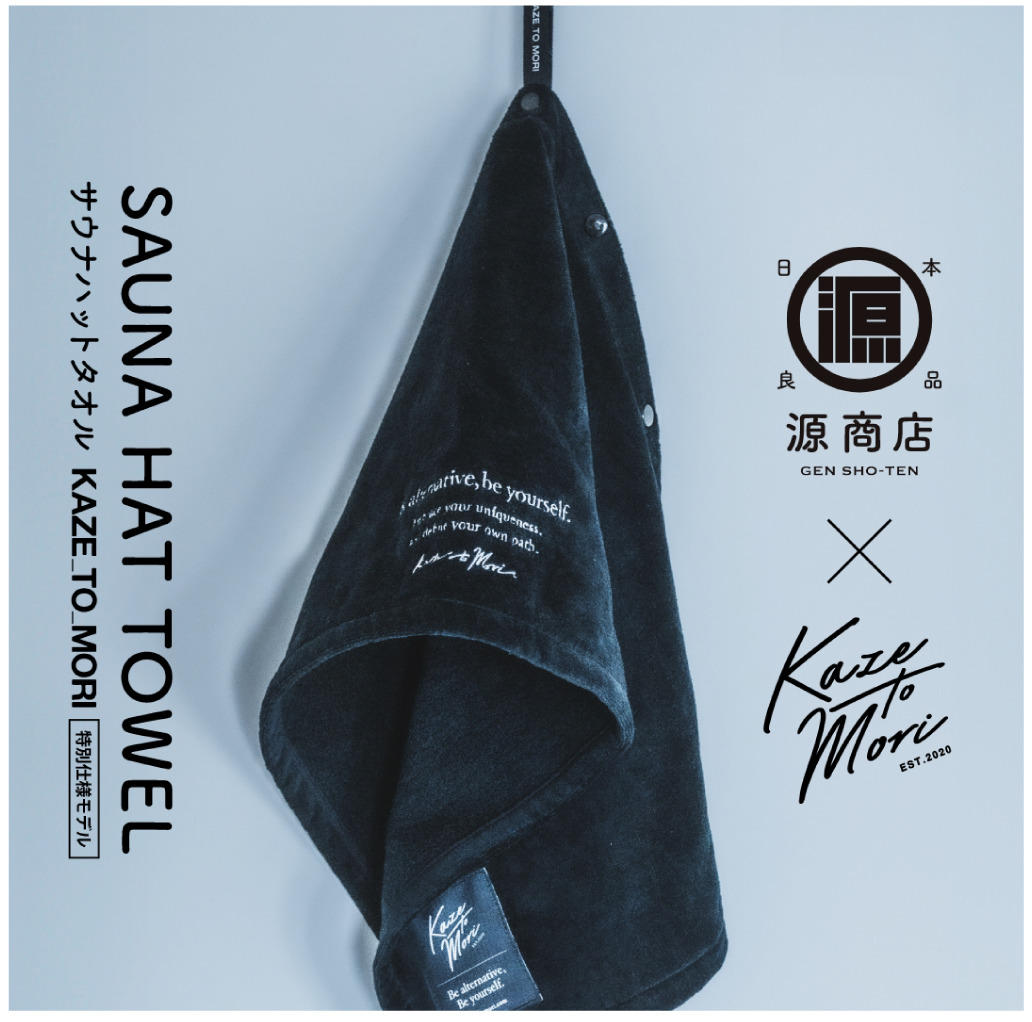 「1枚のタオルが、アウトドアの楽しみ方を拡張する。」
広島を拠点にものづくりを行うインディペンデントブランド【KAZE_TO_MORI】別注のサウナハットタオル コラボレーションモデルが完成しました。
源商店サウナハットタオル | LOT.301ブラックをベースに、KAZE_TO_MORI仕様にカスタムされた特別仕様モデルです。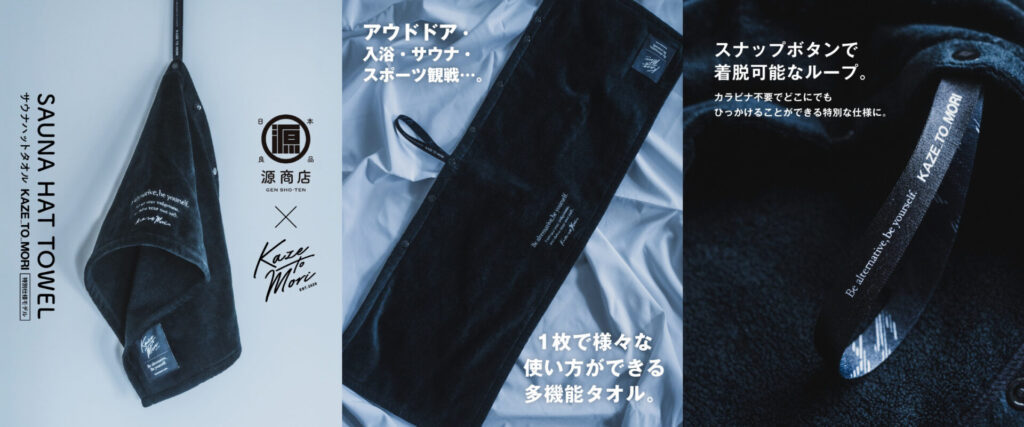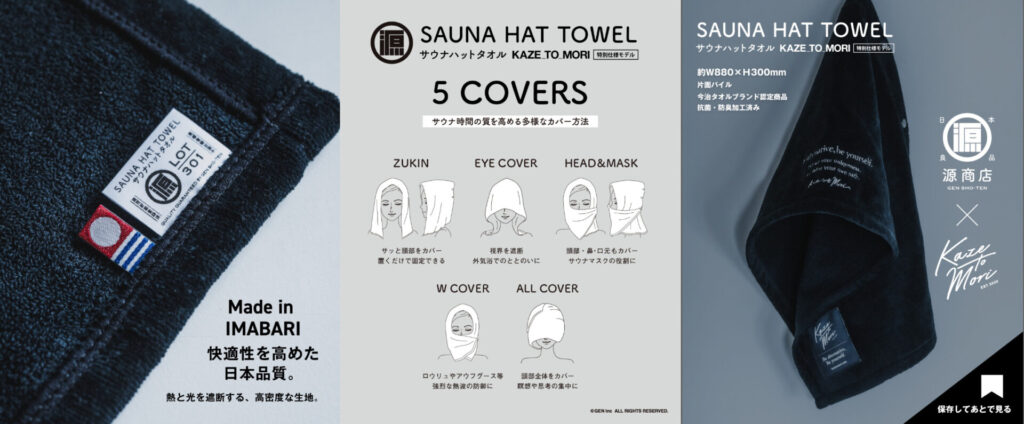 [KAZE_TO_MORI 特別カスタム]

・ZUKINやHEAD&MASK時のフード部分へ贅沢に刺繍されたタイポグラフィ
・黒タオルに映えるブラックカラーのブランドタグ
・アウトドアシーンの利便性を拡張する着脱可能なループ紐 etc.
カラビナ不要でどこにでもぶら下げられるなど、キャンプでの利便性が大幅に向上。
これ一枚持っておけば、アウトドア、キャンプ帰りの入浴やサウナ、運動時など様々なシチュエーションで大活躍します。
本日11月10日から始まる日本最大のOUTDOOR&LIFESTYLEイベント フィールドスタイルにて販売開始予定です。会場に行かれる方は、KAZE_TO_MORI様のブースでご覧になってみてください。
※販売情報詳細は下記ご確認ください。源商店での販売はありません。
KAZE_TO_MORI
instagram https://www.instagram.com/__kaze_to_mori__/
WEB https://kazetomori.com
イベント概要
国内最大級の遊びの祭典 FIELDSTYLE OUTDOOR&LIFESTYLE FESTA
開催日程:11月10日〜12日
場所:愛知県国際展示場 AICHI SKY EXPO
https://field-style.jp/
KAZE_TO_MORI×GEN SHO-TEN collaboration model completed.
A single towel expands the ways to enjoy the outdoors.
A special order sauna hat towel collaboration model has been completed for KAZE_TO_MORI, an independent brand of craftsmanship based in Hiroshima. Based on the Gen Shoten Sauna Hat Towel | LOT.301 Black, this is a special model custom-made to KAZE_TO_MORI specifications.
[KAZE_TO_MORI Special Custom]

The typography embroidered on the hood of the ZUKIN and the HEAD & MASK is luxurious.
Black color brand tag that looks good on a black towel.
Detachable loop cord to extend the convenience of outdoor scenes, etc.
The convenience of camping is greatly enhanced by the fact that the towel can be hung anywhere without the need for a carabiner.
Having this one piece of clothing will be of great use in various situations, such as outdoors, bathing after camping, sauna, and during exercise.
It will be on sale at Japan's largest OUTDOOR&LIFESTYLE event, Field Style, which starts today, November 10. If you are going to the event, please visit KAZE_TO_MORI's booth.
KAZE_TO_MORI
instagram https://www.instagram.com/__kaze_to_mori__/
WEB https://kazetomori.com
Event Outline
FIELDSTYLE OUTDOOR & LIFESTYLE FESTA, one of the largest play festivals in Japan
Schedule:November 10-12
Place: Aichi International Exhibition Hall AICHI SKY EXPO
https://field-style.jp/